A Superb Queenstown Wedding Venue
For many years we have enjoyed helping couples celebrate a perfect wedding day. Trelawn Place is an ideal wedding venue for Civil Unions through to receptions for 80.
With the beautiful setting of river and mountains, and lovely areas in the garden for your photographs, what could be a more idyllic wedding venue in Queenstown. If the weather does not allow this, a candle lit wedding ceremony in the sitting room can be just as lovely.
We offer a complete wedding package, which covers all the essentials, so leave the stressful planning to us and come to Trelawn for fun and romance.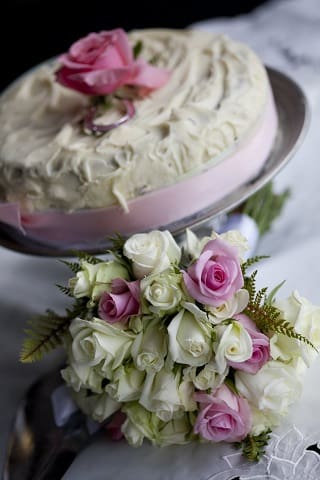 Package 1
The Venue Day Hire to 6pm
from $1250 incl. GST
Provides the following for up to 50 – 70 people; $1500 incl. GST for more than 70 people
Tables chairs and black table cloths for up to 70 people
30 white resin chairs for the ceremony. White table and chairs for signing certificate.
5 – 3m x 3m gazebos for shade.
Stereo for use with I pod for back ground music. Small charge for this.
Use of the toilets for up to 40 people.
Help in setting up tables chairs bar etc as directed by you.
Help with organizing the parking of cars, and greeting guests as they arrive.
Help with setting up the bar with drinks etc on arrival. – Services of bar staff an extra charge.
Provision of power and water.
Clearing up to the extent of packing away Trelawn's equipment tables and chairs etc. Excluding bottle disposal, and rubbish..
A deposit of $200 is required to confirm this wedding package.
Package 2
Venue Hire + 2 nights accommodation with breakfast
$5500 incl. GST
This package provides Bed and Breakfast for 10 people in 5 King ensuite rooms, and the venue hire fee. Any evening function finishes at 11pm.
This package enables you to set up the day before and have a rehearsal. This venue is not suitable for over 100 people.
A deposit of $500 is required to confirm this wedding package.
For a post wedding function where there is a reasonable number of people, there is an extra charge of $200 Incl. GST.
Trelawn has a 6m X 2m marquee ideal for the buffet table or bar at $140.
A 5M x 5M Wooden dance floor is available $145
Trelawn can make suggestions for Celerbrants, Carterers, Hair and Makeup artists Florist, Hair stylist, Photographer, Musician and transportation options. We suggest SJ Allens for porta loos, if you require them.
A non refundable deposit of $500 is required to confirm a wedding booking, along with credit card details for a $500 security of payment.
Full payment required one week prior to wedding.
For package 2, we require a $500 damages deposit.
For an block booking we do not accept any cancellations of any sort within 7 days of arrival
Payments by credit card incurs a 3.25% bank service fee.
If a wedding reservation is cancelled within 30 days of arrival, 25% of the value of the accommodation reserved will be charged.
BYO drinks no corkage charge. We have large drinks bins for your bags of ice.
We are able to assist you in finding your Celebrant, Florist, Hair stylist, Photographer, Musician, Caterer etc. Saving you the expense of a Wedding coordinator.